In my nomadic opinion, this was one of the more eclectic and diverse bills I've seen in many a moon. I suppose the second you add Chicago's Y
akuza
to a bill or an entire tour the line up instantly takes on a new and hard to categorize form.
So true to those words Yakuza was the first band I saw. I heard from several people that Hellbastard was added to the bill and they played before Yakuza, can't confirm this other than hearing about it when I arrived. So Yakuza took the stage with a mellower than expected number. It's been quite some time since I've seen the band live so I have no comparison to how they've opened shows over the past 18 months or so, but tonight's opening was definitely not what I expected.
Mellow as it may have started it wasn't too long before the build-up, uh, built up some momentum and a few more minutes of anticipation were uncorked and away they went. So as I mentioned it's been some time since I've seen Yakuza tear it up and because of my absence I did not know if they had gotten this good or if being on tour and playing every night got them this devastating. Maybe a little of both?
Regardless of how they got there, Yakuza, IMO are "there." Over the years they've thrown a monkey wrench into the cog known as Heavy Metal and thrown it for a loop. What I witnessed on Saturday evening was a band really starting to utilize its full potential. By blending their styles in an almost hyperactive or spastic scenario, Yakuza are creating a wall of sound that while "abstract," is still pummeling and every bit "extreme" as anything out today. New material from their latest album, 'Of Seismic Consequence
' sounded as aggressively complex live as it does on record. Impressive.
Surprisingly, this tour is a co-headline and because of that Triptykon and 1349 switched in the closing spot each night. With that said, that's where the "co" anything starts and stops.
Triptykon is as you all know is the new band of Hellhammer/Celtic Frost main man Tom G Warrior. Now I will admit that when all the drama went down concerning the demise of Celtic Frost, I didn't know what to believe. How could that band, who by all accounts were dead and gone before the release of 2006's 'Monotheist
,' who clawed their way back from the dead just "give up?" As the years have passed we learned quite a bit about the dealings of Celtic Frost and how the band was destroyed from the inside out.
"Rising from the ashes" is such a cliché expression and even more so when it pertains to Heavy Metal, but that's just what Tom G Warrior has done with Triptykon. In fact, it's probably not the most inconclusive thing to say that if CF were around in 2010 they'd sound a fuck of a lot like Triptykon. That being said, the anticipation for the arrival of Triptykon was pretty high tonight. From the second they stepped on stage as their intro "Crucifixus" from the soon to be released 'Shatter
' EP played, Tom G Warrior and crew were given a warm welcome (back) to Chicago. Opening with the CF classic "Procreation (of the Wicked)" only solidified the embrace from the crowd and for the next hour or so the stage belonged to them.
"Goetia" from their debut, 'Eparistera Daimones
' was the first indication at just how powerful and crushing Triptykon is live. Of course 'Procreation…' was heavy as all, but anyone familiar with the last chapter of CF knew how this song was presented in the context of a live show. "Goetia" was like the first new thing we're hearing and what can I say? It was futuristic, it was just a mind fuck of heavy proportions and it was just the start! "Circle of the Tyrants" was next and let me say right now, there's something hard to explain about hearing a song live that you basically never thought you'd hear again. This was one of them.
"Abyss Within My Soul" was played back to back with "The Usurper" and again, just crushingly heavy. The band, from a first impression seems to perfectly combine the same zest for playing both Triptykon, their own material as they do Celtic Frost's. Their respect of the old makes the new material, even if it were the initial exposure, much more convincing. A 'Monotheist' era song, "Synagoga Satanae" followed "The Usurper" for a truly dynamic one-two punch. Hearing this 10 minute mini-epic for the first time in a long time reminds you how crucial CF were to the Metal world and how perhaps that void is now filled in a bit.


They closed with an extended version of "The Prolonging"off the debut and that was it. A triumphant return and hopefully it acts as an invitation to return again and again.
Sorry to say just about any band following the slaughter of Triptykon was going to have their work cut out for them. 1349 was that band tonight. A fine band in their own right, 1349 has been one of the more consistent acts of the current crop of Norwegian blasphemers. Featuring Satyricon's Frost on drums the band comes with its own built in selling points before a note is even played. 1349 ironically were support to Celtic Frost on the last US tour CF would do in 2006 and the two camps have come to conquer again.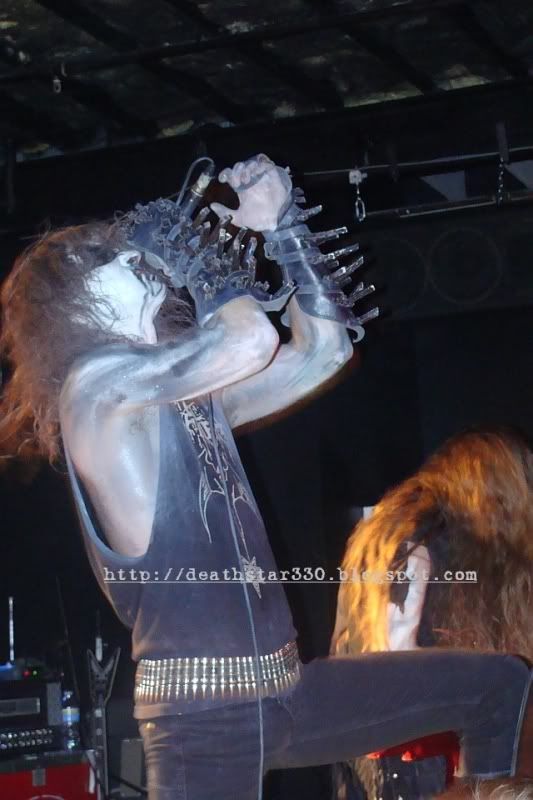 1349 right off the bat sounded very thin. It could be their sound, it could be that's what I heard in comparison to the sonic bulldozer Tom Warrior and Co. drove through the venue about a half hour ago. Either way it left a lot to be desired. I stayed for a few songs, didn't hear too much to convince me to stay longer, very talented band and totally hard working, this being their second tour of the US in support of the 'Demonoir
' album but live there was little to really keep my attention for more than 20-25 minutes.