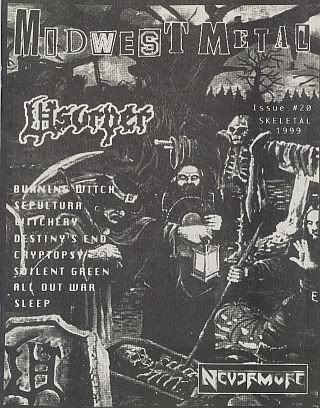 2009 Notes: What a long, strange trip it's been for Ben Falgoust and
Soilent Green
. Since this interview was done you can basically write a book on the up's and downs the man and the band have conquered. From label changes to line up shifts to [multiple]
van accidents
and physical (and other) rehabs, Katrina and the
loss of friends
and
ex-band mates
…if it were all laid out for you it's rather cringe worthy shit. However there's a term thrown around here and there, "lifer". Well Ben, Brian, Tommy and the crew are total lifers and they continue to churn out Soilent Green aggression at every turn including their most current, 2008's '
Inevitable Collapse in the Presence of Conviction'
.

Re-reading this short interview is cool for me because at the time it was conducted Ben was not yet a member of
Goatwhore
and some of the younger readers out there may only know him through Sammy's Satanic army? Lastly, a collection of early SG
demo material
featuring original vocalist Glenn Rambo will soon see the light of day via Phil Anselmo's
Housecore Records
. So enjoy the past and look forward to the future with the band and thanks for reading.

2001 Notes: This isn't the longest interview, but it gets the job done. Soilent Green continue to make up for lost time by continuing to kick ass.

Whether you're a die-hard fan, a Johnny come lately or somewhere in between, a new Soilent Green album is reason to celebrate. Their latest is '
Sewn Mouth Secrets'
, and it's just an ass kicking display of what these boys can and will do. I recently spoke to Vocalist/Lyricist Ben Falgoust to get reacquainted with one of Louisiana 's finest.

Midwest Metal: Since the release of your debut album, 1994's 'Pussysoul', there's been a considerable gap. And also since then you've found a new home with Relapse.

Ben Falgoust: Yeah, mid 1994 was when 'Pussysoul' came out. We did a few things since then, we did a few songs for the Cry Now, Cry Later comp, we did a split 7" with Grief, so that was three songs there. When Brian (Patton) started playing with EYEHATEGOD, which was before the 'Take As Needed For Pain' LP came out, he was on the road a lot and when it came to writing songs, we didn't like writing without everybody there. That may sound bad, but it isn't, we all seem to have a few different bands.

But back to the question, I mean we had our [rehearsal] room broken into a few times. And you know, that's a few months to get up the money to get new instruments and stuff, that shit ain't cheap. But almost every band in the world has something like that happen to them, but at least it got us where we're at today. We wrote three new tunes, and those ended up being the 'String Of Lies' EP, and we sent them to
Relapse
. And originally, they wanted to do a 7", but when they heard the sound quality, they liked it enough to put out as the EP.


How long after the 'String' EP did you record for 'Sewn Mouth Secrets'?
I'd say it was about nine or ten months. We could've did it sooner, but after 'String' came out, Relapse wanted us out on the road, and we did a short tour with Brutal Truth. That plus all of us have our day jobs, which we need to survive. We all have basic American jobs.


With all the job responsibilities, how much time do you get to jam per week?

We try for five times per week. We usually don't get 'em, but we try. We usually don't practice on the weekends, that is unless we have something important to practice for. But it's good to go Monday through Friday.

You guys got some attention at this past years Milwaukee Metalfest and on the road with Crowbar. How did those shows go?

Yeah, it's [Milwaukee] always been a long time thing for me, I'd been to a few and I always wanted to play one. And when I finally got to play it, it was cool. It's little hectic, but it's so damn cool, turnout was huge! We had a few technical things, but the shows were great. The Crowbar/EYEHATEGOD tour was cool too, we got to play a lot of places we'd never been to, some crowds knew who we were and some didn't, so it was cool to turn people on to it.


[Ben Live-Chris McKibbin]

I've read a lot of live reviews on Soilent Green and each of them, mine included, mention your stage presence. Do you hear a lot about it? Who did you look up to as a kid growing up?

It's like half natural and there's always going to be some sort of influence shining through. I've seen so many good singers live, Frank Mullen from Suffocation is a kick ass frontman, Chris Barnes of Cannibal Corpse, I'd rather not discuss Six Feet Under, was killer. There's a lot of killer front men, I was never much of a Pantera fan but Phil live is so commanding, he's good at it and it's totally from the heart. I respect a lot of what he does, same with Kyle from Exhorder.

How about the lyrics on 'Sewn'. I mean there's a lot of lyrics. Don't you ever like to repeat yourself?

Well, some of the songs on 'Sewn' are three years old, so they've been in my mind for a long time, and when people ask what we've been up to, I just look at the lyrics, those are where all the time went. It's a thing where I write all my words out, and when it's time to write lyrics, I plagiarize myself (laughs), so it's just an accident. I look at it like abstract art, abstract music, and abstract lyrics.

Also the same with the music, those guys don't want to repeat themselves, so I figured I'd do the same. I was never good at English in school, but the older I get I can tell some of it rubbed off. People write a lot about our lyrics, especially the female stuff. I just had a bad relationship and I wrote about it, instead of actually doing this stuff. It's a relief of the strains.